After 2 years of online concerts, we're back in the Glasgow Royal Concert Hall for January 2023.
We have 3 school concerts featuring some of the fantastic artists appearing at this year's festival. We also celebrate the 30th edition of the festival with a concert featuring young musicians from all over Scotland.
The concerts are suitable for all P4 – S6 pupils.

To attend, teachers should download and complete the application form for each concert you want your students to attend. There is no limit to the number of seats you ask for, but you must complete one application for each concert.
Completed application forms can be emailed to schoolconcerts@glasgowlife.org.uk.
Enquiries should be emailed to schoolinfo@glasgowlife.org.uk. Please do not email enquiries to the school concerts email address.
Programme
Friday 20 January, 11am–12.20pm
Peat & Diesel
Rachel Hair and Ron Jappy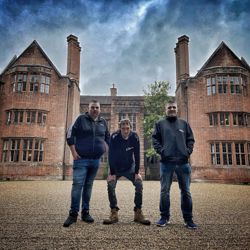 Peat and Diesel are a 3-piece band from Stornoway on the Isle of Lewis, Scotland. They are Calum "Boydie" MacLeod, Innes Scott and Uilly Macleod. The band formed over Saturday sessions at the band members' homes in Stornoway, and grew in popularity through social media. In 2019 they won "Live Act of the Year" at the Scots Trad Music Awards. Visit peatanddiesel.band to find out more.
Rachel Hair and Ron Jappy mix the oldest Scottish instrument, the clarsach (harp), and the newest addition to the traditional music arsenal, the guitar. These superb instrumentalists share a passion for traditional tunes, and perform as if sharing one mind. Rachel is also one of the fantastic musicians who deliver our workshop programme in Glasgow. Visit rachelhair.com for more info on the duo.
Friday 27 January, 11am–12.20pm
Le Vent du Nord
St Roch's Céilí Band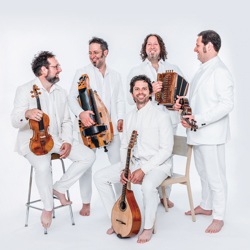 The award-winning Le Vent du Nord are leading the way in Québec's exciting and progressive Francophone folk movement. The group's vast repertoire draws from both traditional sources and original compositions. Their rhythmic and soulful music, rooted in the Celtic diaspora, is enhanced with a broad range of global influences. It's an honour to welcome them back to the school concert stage on their 20th anniversary. On their previous visits, they had teachers and pupils dancing in the aisles. Find out more at leventdunord.com.
The fabulous St Roch's Céilí Band open the concert. The group was formed over 40 years ago by Frank McArdle as a lunchtime club in a Royston secondary school. The organisation is now responsible for teaching traditional music to hundreds of children across Glasgow. The band will have you tapping your feet, clapping your hands and maybe even singing along to a traditional song! Visit the band's Facebook page to find out more.
Monday 30 January, 11am–12.20pm
Strands and Session A9
Strands is a joint celebration of Celtic Connections' 30th edition and it's pioneering education programme. Young musicians come together from regions across Scotland to showcase their home traditions. They then première a brand-new ensemble composition from Treacherous Orchestra co-founder John Somerville. Since 1999, over 200,000 children and young people have taken part in Celtic Connections events. The learning continues here, with around 30 young musicians performing on stage and inspiring a young audience.
Scottish super group Session A9 are in their 20th year. The band features the stunning fiddles of Charlie McKerron, Gordon Gunn, Kevin Henderson and Adam Sutherland . Brian McAlpine is on piano, Marc Clementon on guitar and vocals and David Robertson on percussion. They are happiest on stage performing sizzling arrangements, played with skill, fire and enthusiasm. Visit Session A9's Facebook page for more information.