Showcase Scotland shines light on musical talent of Brittany and Wales at Celtic Connections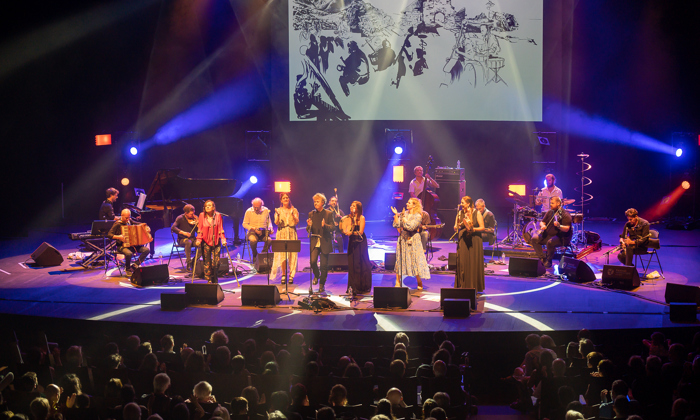 Showcase Scotland, a core event within Glasgow's folk, roots and world music festival, Celtic Connections, will highlight its international partners, Brittany and Wales, during a six-day programme taking place between Wednesday 25 January and Sunday 29 January 2023.
The music industry event, which is returning for the first time in two years, introduces international delegates to the Scottish music sector, featuring this year's partners Spectacle vivant en Bretagne and Wales Arts International - Arts Council of Wales.
The programme is fully subscribed, with hundreds of international music industry representatives electing to travel from across Europe, Australia, the USA, Canada and the UK to experience the incredible Scottish, Breton and Welsh music on offer.
Breton performers comprise traditional duos Thomas - Faure and Faes and French quartet 'Ndiaz, all-female quintet Kaolila, pianist, guitarist and singer Faustine Audebert, and the undisputed masters of the Breton dance floor Startijenn. While Gaelic arts organisation Ceol's Craic will present Brittany trio of virtuoso musicians Fleuves.
Welsh performers comprise folk singer Gwilym Bowen Rhys, Welsh triple harpist, composer and singer Cerys Hafana, chamber folk trio VRï and a collaborative show between eight European Celtic nations entitled Celtic Odyssée.
As the largest annual gathering of the international music community in Scotland, the showcase provides opportunities for promoters, record labels, agents and festival organisers to connect with the Scottish industry and each other.
Each year, Showcase Scotland has an international partner, which has included Ireland, Australia, India and New Zealand in recent years.
The showcase was piloted in 2000 by British Council Scotland and the Scottish Arts Council at Celtic Connections and is now a core and regular part of the festival. Showcase Scotland is produced by Active Events on behalf of Glasgow Life.
Lisa Whytock, Executive Producer of Showcase Scotland, said: "2023 will see a return to us welcoming the world's music industry to Glasgow. It is particularly fitting that after missing two years of our global network coming together to celebrate some of Scotland's best musical talent, in 2023 we will also welcome both Brittany and Wales to the event. Two of our closest Celtic cousins will celebrate with us in an international spotlight from all three nations."
Sarah Karlikow, artistic adviser at Spectacle vivant en Bretagne said: "It's very exciting for the Breton artists to be part of this celebration and share it with our close cousins from Wales. It's like being back in the family after a too long absence! Being all deeply rooted in traditional music and dancing life of Brittany, the six bands will show how different they sound, each one renewing the tradition in its own excellent way.
Eluned Hâf, Head of Wales Arts International - Celfyddydau Rhyngwladol Cymru, said: "We can't wait to be back in Glasgow for Showcase Scotland at Celtic Connections and it is a bonus to share the spotlight with Brittany. We look forward to showcasing some of the best artists from Wales on this global stage. All three selected artists have recently released excellent albums to critical acclaim, each harnessing the ancient folk traditions of Wales and the Welsh language in a contemporary and vibrant way."