Scotland's Year of Stories 2022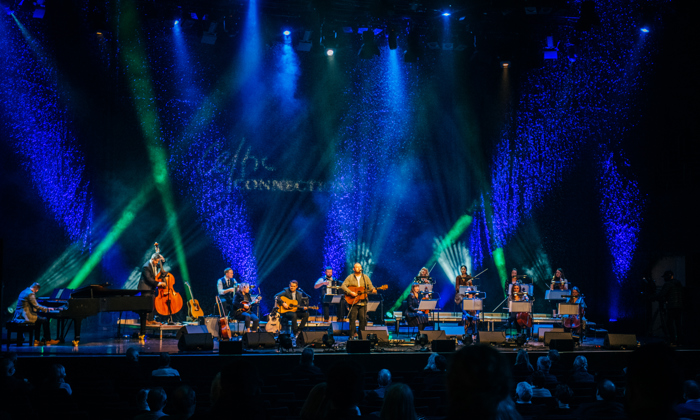 Scotland's Year of Stories 2022
Celtic Connections will celebrate Year of Stories with a special week of events featuring performances from over 20 high profile acts inspired by Scotland's people, places, tales, legends and nature.
'Whisper the Song' references our events' exploration of the oral tradition of passing stories down through generations, often softly one to one. The word Celt comes from the Germanic word Keltoi meaning 'secret', referencing how others thought of the Celts as they never wrote their stories down. We will invite audiences to share in this oral tradition.
Stories have always been part of traditional music, but this series of events will, for the first time at Celtic Connections, put the stories at the centre of the stage, firmly in the spotlight of the festival. This widens the festival programme and will create a new chapter in the design of the festival, providing a launch for the programme to continue to present the tradition of storytelling as part of the wider festival programme in the future.
There are five events as part of 'Whisper The Song' which have been specially commissioned as part of Scotland's Year of Stories and all include at least one storyteller, poet or writer working with headline artists in the traditional and roots music scene.
Storytellers and musicians from the island will share Shetland's local tales and legends, and encourage audiences to find out more about the island's diverse culture, languages, landscapes and ways of life.
This afternoon instalment of Shetland 550, Celtic Connections 2022's concert series marking five-and-a-half centuries since Shetland became part of Scotland, is conceived in part as a contemporary concert version of a traditional house ceilidh – or "peerie foy", in Shetland dialect – incorporating music, stories and poetry. Your hosts are all artists deeply interested in both the past and present of Shetland's culture, whether as manifested in its language, a rugged, resonant hybrid of Old Scots and Norse elements, or its world-famous musical heritage.
Shetland poets Christie Williamson and Christine de Luca each write in their native tongue and translate others' work into it, revitalising old words and idioms via 21st century themes and international dialogue. Juxtaposed with ancient folk-tales, their poems feature here alongside Shetland's most ancient music and its most modern, as venerable traditional tunes - from top island fiddlers Maurice Henderson, Margaret Robertson, Catriona Macdonald and Chris Stout – converse with the sounds of young jazz saxophonist Norman Willmore and audacious harp innovator Catriona McKay, of Fiddlers' Bid fame.
Stories, myths & musings from the gàidhealtachd - these are the stories the Gaels passed through generations, and capture their sense of the world and Scotland's place in it.
A celebration of the storytelling tradition in the Highlands and Islands and the music that goes with it, featuring Allan Henderson, Margaret Stewart, Ewen Henderson, Sileas Sinclair, Ewan Robertson and Duncan Chisholm. Tales of hidden treasure, fairies and bòcain mingle easily with stories both humourous and tragic. Why was the death of a Swedish king mourned so deeply in the Gaeltachd and who was the Gaelic speaker that ran with the John Dillinger gang? All will be revealed, to the accompaniment of some of the best traditional music around.
Discover how tales of Scotland travelled with and were reimagined by the Diaspora, with stories and songs from
As part of the Celtic Connections 'Whisper the Song' series of events celebrating Scotland's Year of Stories, The Scottish World brings music, poetry, story and song celebrating the Scottish diaspora and its influence all over the world. Among the highlights which captivated a sell-out audience at the Edinburgh International Book Festival were the hymn "Alteren's Sacrament" by 17th century Norwegian poet Petter Dass, son of Peter Dundas from Dundee, translated back into Dass's ither mither tongue, Scots, by Kay; the North East song from the Peninsular War, "The Forfar Sojer"; songs of exile like "The Sun Rises Bright in France" and the Scots Canadian classic written by a Borders shepherd, "The Scarboro Settlers Lament."
Billy Kay, charismatic and eloquent, writer, performer and broadcaster, is one of the great chroniclers of Scottish language and culture, and will be joined by singers Siobhan Miller and Robyn Stapleton among other special guests.
'Scottish World' is the fruit of much research and thinking on Scotland's contribution to the world through it's greatest export - its people. Jam-packed with historical anecdote and appropriate songs, this is a well-tempered account of Scots men and women's contribution in lands other than their own.
An event exploring how traditional folk tales, stories and songs are the last link to the homeland of some New Scots.
Scotland based Jamaican singer-songwriter iBrina is no stranger to Celtic Connections. This year she pays Homage to Home and has invited a world-class ensemble of musical friends to join her for a night of dynamism and transcultural expression. Just over a decade ago, iBrina left Jamaica and set out on a journey that would ultimately see Scotland become her new home. In that time, she has performed on countless stages across the UK, Europe and most notably in east Africa where she has a strong following after releasing an EP entirely in Kiswahili. Born in the rural hills of countryside Jamaica; this musical powerhouse will perform her set with an all-Jamaican band, bringing authenticity of the rich cultural tapestry which continues to captivate the world.
Jally Kebba Susso – in West African culture, the kora is the traditional harp of the griot. The griot plays a key part by bringing together the skills of a historian, musician, storyteller, and diplomat to steer the community and its leadership to a better future. You can only be born a griot, inheritance being the only path. UK-based Gambian kora player Jally Kebba Susso plays from a background of 74 generations of musical heritage.
Nathan Somevi - is a Ghanaian born British musician who plays a hybrid guitar which is part bass, part guitar. Somevi, nominated for a Scottish Alternative music award and Resonate's artist of the week for his EP Can't Be Done worked mostly as a session musician. Opportunities arising from the pandemic has encouraged for Nathan a fulfilling creation of original pieces which any music appreciating audience will find pleasurable.
Bumi Thomas - contemporary Scottish Nigerian singer-songwriter whose ethereal voice stokes the soul transcendentally. Her acoustic and evocative style is inspired by her multicultural heritage expressed visually and sonically as invocations of non-linear identity. 'I tell stories about movement, migration, displacement, joy and humanity.' Her latest Ep Broken Silence released June 2020 has been described as "timely and visceral" by the Sunday Times and "strikingly original" by London Jazz News.
Partnered with BEMIS
There is perhaps no greater global concern than climate change, and Breathe highlights this issue with a collection of stories of the natural world from Scotland.
Following on from the success of Strathspey Stories at the Scottish International Storytelling Centre in 2020, composer & singer Hamish Napier and storyteller David Francis team up again for a brand new commission centred on the natural landscape of the Scottish Highlands, exploring the differing and developing attitudes to land management over the centuries. Accompanied by a stellar trio of musicians, the Breathe uncovers songs and traditional tunes rooted in the land by their stories and folklore.
Family friendly show