Celtic Connections 2021 announces initial line-up and early bird tickets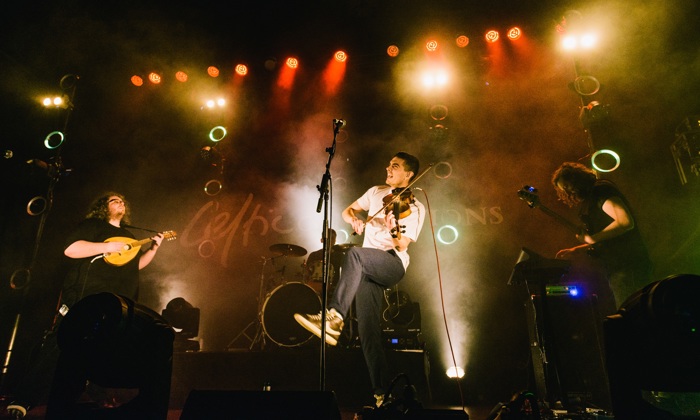 Celtic Connections has announced the first names of artists who will be performing as part of their digital-first festival this January. Across 19 days, the festival will present online performances every night between Friday 15 January and Tuesday 2 February 2021.
An early bird festival pass has been released that gives unlimited access to the full 19 nights of entertainment for only £30. Tickets are available to purchase from celticconnections.vhx.tv. The early bird ticket will be available for a limited time only, and will then increase to £40. Tickets to individual concerts will be available to buy from early January, when the programme schedule is released.
The line-up for Celtic Connections 2021 will include:
Admiral Fallow  /  Aidan O'Rourke 365  /  Amira Kheir  /  Bassekou Kouyate & Amy Sacko  /  Blazin Fiddles  /  Blue Rose Code /  Breabach /  Cherish The Ladies  /  Chris Stout & Catriona McKay  /  Declan O'Rourke  /  De Temps Antan  /  Duncan Chisholm & Scottish Ensemble  /  Eddi Reader  /  Edwin Morgan 100th  /  Elephant Sessions  /  Fara /  Fergus McCreadie Trio  /  Fiona Hunter  /  Georgia Cécile  /  Gnoss  /  Grosse Isle  /  Imar  /  James Grant  /  José González  /  Kinnaris Quintet  /  Kris Drever  /  Karen Matheson  /  Kathleen MacInnes  /  Le Vent Du Nord  /  Lyre  /  Mairearad Green  /  Mànran  /  Paul McKenna Band  /  Project Smok /  RANT /  Rachel Newton  /  Rhiannon Giddens with Francesco Turrisi  /  Roaming Roots Revue  /  Rory Butler  /  Ross Ainslie  /  SCO with Karine Polwart & Pekka Kuusisto  /  Shooglenifty  /  Sian  / Siobhan Miller  /  Sona Jobarteh  /  Sorren MacLean & Hannah Fisher  /  Talisk  /  The Secret Sisters  /  Transatlantic Sessions  /  TRYST  /  Westward the Light  /  Xabier Diaz  /  Zoe Bestel
Celtic Connections also welcomes BBC ALBA as a broadcast partner with exclusive performances and a new series of Seirm@Celtic Connections.
The festival is creating unique digital content from specially commissioned projects and performances filmed across many of Glasgow's much-loved venues. In doing so the festival will support and encourage the creative industries to help protect Scotland's rich musical legacy.
The initial line-up has been announced with some of the most well-known and best-loved acts who have traditionally graced the festival stages confirmed to take part in this digital-first event.
Celtic Connections prides itself on its international relations and every year it showcases artists from across the world. Organisers have ensured that a number of international acts who have filmed their performances remotely are also included in the line-up alongside a host of incredible homegrown talent.
Celtic Connections is delivered by the charity Glasgow Life and is funded by Glasgow City Council, Creative Scotland and the Scottish Government.
Annually welcoming over 100,000 attendees to Glasgow, a UNESCO City of Music, organisers hope the festival's digital-first programme will appeal to the wide international audience they traditionally see attending the festival. With the festival's global audiences in mind, they have allowed for all shows to be available for a week after they are first streamed to alleviate any restrictions for different time zones enjoying the range of content. 
Donald Shaw, Creative Producer for Celtic Connections, said: "It has been a challenging but exciting process pulling this year's digital festival together. I would like to say a huge thank you to all of the musicians who have contributed both at home and abroad, it has been brilliant to see them all get behind the concept and support our vision. We can't wait to bring all of this great music into people's homes this January!"
All concerts are recorded whilst fully adhering to social distancing guidelines and all current government guidance are observed and followed.  
Celtic Connections ask that even in watching and enjoying this digital-first festival, all audiences adhere to the government guidance relevant to them at their time of watching.
Early bird festival passes are on sale now at celticconnections.vhx.tv. View our 'how to book' page for more information. The full line-up and programme schedule will be released in January.